Discover more from The KC Downtown Loop
Your connection to Downtown Kansas City: Essays and images for KC's Downtown dwellers, 9-to-5'ers, and urban explorers
In The Loop: October 2023
Your connection to Downtown Kansas City
I was in St. Louis last week for the Mizzou-versus-Memphis game, just as I had been for five of the six games when the Tigers played Illinois there in the dome from 2002 to 2010. But this time, to my dismay (and shock), we didn't pre-game at the city's historic LaClede's Landing directly across the street from the stadium, because so much has closed in the former bustling entertainment and food district. No more Morgan Street Brewery, no more Mississippi Nights, no more Harpo's. Even the McDonald's on a boat has disappeared.
Why do I mention this? Well, for one thing it's a reminder that you can never take things for granted. In the evolution of cities, it's rare for anything to last forever and, similarly, it's not unusual for venerable historic districts to make comebacks after their apparent demises (think River Quay / River Market).
It's also worth considering the effect that other nearby entertainment districts (like the Cardinals' Ballpark Village) have had on LaClede's Landing — not to mention the loss of an NFL tenant at The Dome at America's Center. How would (will) a ballpark district in Downtown Kansas City affect Power & Light, Crossroads, or the River Market?
But when comparing Downtown St. Louis to Downtown Kansas City (apparently, despite many advances and being an active downtown, the central business district of St. Louis is arguably not as "successful" as Downtown Kansas City according to many observers), I think I stumbled across a new theory this past week.
The theory is this: St. Louis has so many more walkable, urban neighborhoods than Kansas City — places like Midtown, Tower Grove Park, Soulard, Central West End, Clayton Tamm, and many, many others — that it seems to me that one doesn't have to live in the shadows of the Arch in order to feel like they are "in the city" in St. Louis.
Here in KC, outside of the actual highway loop, you can count the River Market, Columbus Park, the Westside, Crossroads, Midtown, Westport, and the Country Club Plaza, as walkable, urban neighborhoods. Maybe add the Historic Northeast and 18th & Vine, but all these KC places combined are still smaller than the comparable urban, walkable areas of St. Louis.
So, with Downtown St. Louis's reputation for crime (deserved or not) plus that city's larger inventory of interesting, historic urban neighborhoods not located amidst the skyscrapers in the central business district, maybe St. Louisans don't feel the need to live in and cultivate their Downtown proper like we have done here. They have more options.
To be clear, Downtown St. Louis is not dead — far from it — but it doesn't have the vibrance and momentum that we have been enjoying in Downtown KC for the past 15-plus years. And maybe it's because the vibrance and momentum in St. Louis can be found in its historic urban neighborhoods.
Thoughts?
---
And now, on to the
The Loop
….
---
No prizes or praises, just a trivia question to test your Downtown knowledge….



Q. Sprint Center (now T-Mobile Center) opened 16 years ago this month. Many remember that Garth Brooks performed nine concerts shortly after the arena opened that year, but who performed the very first publicly-ticketed concert there on Oct. 13, 2007?
A. See the answer near the bottom of this issue.
---
Oct. 13, 1913: Cable cars give way to electric streetcars
With the advent of the electric streetcar — the overhead electric version of which was pioneered here in Kansas City — the cable cars' days were numbered.
Following the vision of engineer and designer Robert Gillham in the late 1800s, KC's cable car system would become the third largest in the United States, behind San Francisco and Chicago. But on Oct. 13, 1913, the last of the cable cars rolled down 12th Street before bowing to the new electric trolleys that would run for the next four decades.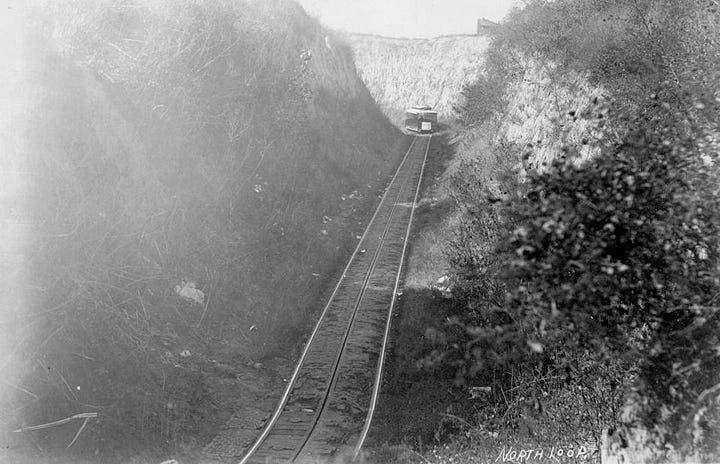 ---
Oct. 1, 1923: Mounted police return to Downtown as experiment
The Kansas City Police Department borrowed six horses from a Kansas City Stockyards company with plans to test the return of mounted patrols Downtown. Several years had passed since officers in Kansas City had used equine assistance on Kansas City streets, but if the tests later in the week were found to be successful, the police department would proceed with purchasing the six horses.
---
Oct. 6, 1948: City ponders "adding another lane" for pedestrians
Oh, how times have changed.
A 1948 article in the Kansas City Star with the headline "Pedestrian Congestion" explained that because there were so many people walking the sidewalks on 11th Street from Main to Grand, the city was considering taking lane space away from cars and removing 25 parking spots in order to widen the sidewalk.
"…This part of Eleventh is a shopper's thoroughfare, far more important to pedestrians than to motor traffic," the article stated.
In addition to reclaiming lanes from car traffic, some interested parties suggested removing light poles and parking meters on the sidewalks to give pedestrians more room.
According to the article, "on a typical Wednesday recently" approximately 24,000 people used the south sidewalk on 11th Street from Main to Grand, also known as Petticoat Lane, in only seven hours' time. Adding the north sidewalk to the tally, about 39,000 people traversed the high-traffic segment Downtown.
"Bear in mind," the article went on, "that this pedestrian count was made on a typical day, not on the peak day of the week, not in the Christmas shopping season."
This wasn't the first time pedestrian traffic was discussed in the Kansas City newspapers, of course. In 1923, a letter to the editor from Frank R. Tibbitts complained about the congested sidewalks — and the city allowing magazine vendors "to occupy three or four feet of the narrow sidewalk."
Tibbitts wrote: "It is too late at this time to increase the width of Eleventh, Twelfth, Walnut and Main streets, and the public will have to put up with the narrow streets for all time to come, but it does not follow that we should permit obstructions to be placed on the already narrow sidewalks."
---
Kansas City Library:
Celebrating Hispanic Heritage Month
The library highlights book recommendations, films, and other resources that explore a rich array of the experiences and perspectives of Latino Americans in observance of Hispanic Heritage Month, which runs through Oct. 15. Among the highlights: the Hispanic Oral History Collection, recorded interviews of 60 Mexican immigrants and early settlers on Kansas City's West Side. 
---
South Loop Project:
Planning and public feedback continue
In mid-September, revised concepts for the South Loop Project were revealed at a public meeting Downtown. The project will build a public park over I-670, reconnecting the Central Business District with the Crossroads Arts District between Wyandotte and Grand streets — and the goal is to open in 2026.
---
Downtown Council:
Royals ballpark should be Downtown
Welp, the Royals didn't follow through on their pledge to announce the winning stadium site — Downtown or NKC — by the end of September, but the Downtown Council did make public their arguments for why the new ballpark needs to be built in the East Village.
---
CitySceneKC:
Cruise ships in the Muddy Missouri?
Echos of Captain Richard Lynn!
A yet-to-be-identified river cruise operator who sails the Mississippi and Ohio rivers may be expanding to the Missouri River and Kansas City. CitySceneKC has more….
---
Visit KC:
Time for haunted houses in KC
It's Halloween season in KC, and everyone knows the scariest, most OG haunted houses are found in the West Bottoms. Here's a run-down of several ghoulish spots around the entire metro, including the city's most famous terror chambers located Downtown.
---
Bringing you some of the most interesting properties for sale or lease in and around Downtown Kansas City….
"Urban Oasis" on the Westside
2006 Summit St, Kansas City, MO 64108
Property presented by: Andrew Bash
Brokered by: Bash & Co. Sotheby's International Realty
Price: $1,200,000
See the property online here
Homes and buildings featured in The Loop are not necessarily recommendations or endorsements, but rather illustrations of interesting properties for sale or lease in the vicinity of Downtown. Properties may or may not remain available at time of publishing.
---
1897
---
---
---
Who are all these people?
Answering the question "Who are all these people and where are they going?", The Loop brings you a list of some of the biggest events happening Downtown each week. Please give a friendly Downtown-Kansas City welcome to audiences and attendees of….
OCTOBER
1st - 6th
7th - 13th
14th - 20th
21st - 27th
28th - 31st
For a more exhaustive list of everything happening Downtown, go to the VisitKC events page and use the "regions" function to search for Downtown, Westside/Southwest Blvd, West Bottoms, River Market, Power & Light, Crown Center, Crossroads, 18th & Vine — or anywhere you want to go in the KC Metro
For live Kansas City Jazz performances, visit LiveJazzKC.com
---
Q. Sprint Center (now T-Mobile Center) opened 16 years ago this month. Many remember that Garth Brooks performed nine concerts shortly after the arena opened that year, but who performed the very first publicly-ticketed concert there on Oct. 13, 2007?
A. Elton John
---
Did you see this week's question, quiz, or poll? If not, your chance to chime in is here.
---
Write to: tips@kcdowntownloop.com or contact The Loop via social media
Kevin Worley, Co-Publisher/Editorial




Joe Nichols, Co-Publisher/Business
---
Terence and Marsha Arredondo

Karin (Erickson) Bradford

Henna and Steve Fuller

Chris Gahagan

Bob and Susan Hiatt

The Kiwinda-Tinsley Family

Todd and Donna Martin

Jane Reed and Mark Patterson

Anonymous

Anonymous