Discover more from The KC Downtown Loop
Your connection to Downtown Kansas City: Essays and images for KC's Downtown dwellers, 9-to-5'ers, and urban explorers
In The Loop: May 2023
Your connection to Downtown Kansas City
We just wrapped up one of the most incredible weeks in Downtown Kansas City history, folks — and how do we know?
Because trophy-less Cincinnati Bengals fans are on social media trying to downplay the greatest NFL Draft event that ever happened:
Of course, we have receipts….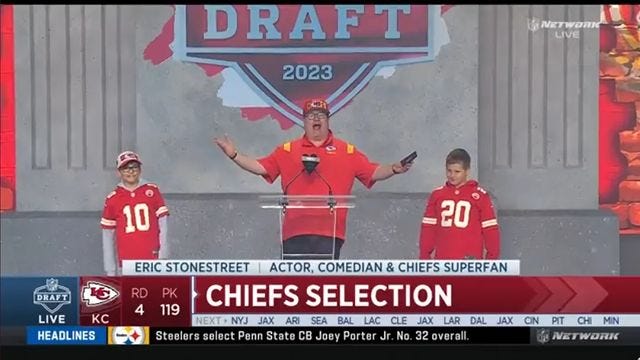 You've come a long way, KC. Next up: The 2026 World Cup! 🌎 🏆
---
And now, on to the
The Loop
….
---
Test your Downtown knowledge….



Q. May 6 is a big day for black history in Kansas City. On that date in 1919, the Kansas City Call, a newspaper focused on KC's African-American community, published its first-ever edition.
So… what black-history moment occurred 26 years later, on the same date, only a few blocks away from the Call's offices at 1715 E. 18th Street?
A. See the answer near the bottom of this issue.
---
May 1886: A morning cyclone devastates our city
Around 10:30 a.m. on the sunny Tuesday morning of May 11, 1886, the sky began to turn dark and ominous in Kansas City.
"…a monster black cloud began spreading from the southwestern horizon," reported the Kansas City Star later that evening, "and in a few moments the city was enveloped in darkness which not only put a stop to all business but held the entire population spellbound by wonder and fear."
The storm created rain and hail and flooding in the streets, with some of the narrower thoroughfares appearing to rush like swollen rivers. Soon, a cyclone caused roofs to peel into the atmosphere and buildings to topple onto the soaked ground.
And worse.
At 2nd and Main, two employees were killed at the five-story Jackson County Courthouse, which lost its top two floors. On the Missouri River, the Hannibal Bridge lost an entire section of its span, ceasing all railroad traffic.
In what today is considered the River Market, the cyclone caused more death when it struck a spice company building located across from the courthouse. A few blocks away, the storm hit an overall factory at 110 W. 3rd Street. A total of nine women and men died in those two structures.
But the storm would claim more lives. At 8th and May streets in today's Garment District, children that included some from Kansas City's best-known Quality Hill families were waiting out the storm at Lathrop School. When the twister arrived, it smashed into the bell tower and caused the roof to cave in on the school, crushing 15 students to death.
At Independence Avenue and Cherry Street (modern-day Columbus Park), classes had been dismissed and students had scurried home before the storm struck the Washington School there.
"Never in all her history did Kansas City suffer such a disaster as that which the elements hurled upon her people yesterday," the Times summarized the next morning, while pondering the unusual nature of the tornado: "There was no circular movement, nor was the balloon-shaped cloud, which is the invariable accompaniment of the real cyclone, visible at any time during the paroxysm. It was a tempest, a hurricane, straight and direct, but furious and deadly as a cyclone could have been."
---
---
Through the Grapevine:
River Market pioneer Mel Mallin dies at 98
A pioneer in the rebirth of Downtown, particularly in the River Market neighborhood, Mel Mallin passed away last Monday.
After service in the Army Air Corp in the 1940s, he returned home to work in the Kansas City garment industry, followed by two decades when he owned box-manufacturing plants here and in Denver.
In 1984, he developed on West 7th Street what are considered the first loft apartments Downtown. Shortly thereafter, he and his son-in-law Dana Gibson redeveloped a few buildings left over from the gutted River Quay into Art Space Lofts, Delaware Lofts, and Landmark Lofts in the River Market.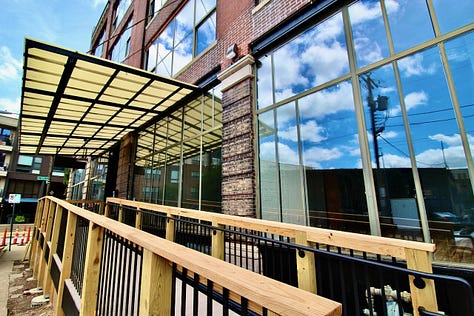 As a landlord, he was beloved (I know, because I was among them — twice). He was kind, and quick to make others laugh, something he spoke of in a 2012 blog post published by Village Shalom, the retirement community where he lived in his later years:
"I was a box manufacturer for twenty years and came to the realization that maybe G-D didn't put me down here just to make boxes. So I sold the box business, and became the first developer of loft apartments in Kansas City. Then, I realized I was still making boxes, only they were bigger boxes in old buildings with people living in them. 
"I gave that up to take on my new assignments…to get people to laugh and sing. OK, so it sounds crazy, but can you think of anything better to do at [age] 87.75? 
"So, call me anytime for a joke, a song or another aphorism. 
Love, 
"Mel" 
---
KC Parks:
Make plans to Make Music, Kansas City
Registration is open for Make Music Kansas City, the third annual city-wide musical celebration that will happen on June 21 with a mix of wild and wonderful free music events. Make Music Kansas City is part of international Make Music Day, a global music celebration that takes place on the summer solstice each year and brings people of all ages and skill levels together.
Any musician — amateur or professional — is invited to take part. Likewise, businesses, buildings, schools, churches, and other institutions can visit the website to offer their spaces as concert locations. Go to the website and click on "Participate" to get involved….
---
City Market News:
Tenderloin Grill moves to the City Market
The City Market News email newsletter let readers in on a little secret earlier this week: Tenderloin Grill, the 91-year-old iconic local neighborhood eatery formerly located on Southwest Boulevard, is now open in the City Market at 25 E. 3rd Street in the former Taste of Brazil space. But fear not, the City Market says, because Taste of Brazil moved only two doors away.
Known for their hand battered pork tenders and hand-cut fries, Tenderloin Grill will announce official Grand Opening information soon.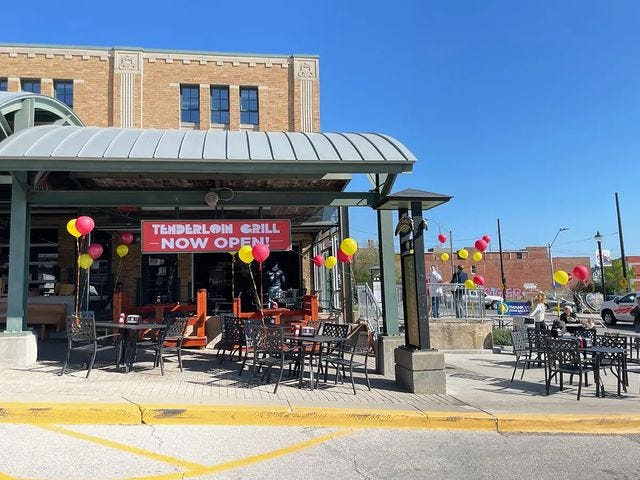 ---
KCUR 89.3 FM:
Can the West Bottoms maintain its character through impending change?
As reported by KCUR, one out-of-town company alone plans to spend $400 million on West Bottoms redevelopment. Will the longtime tenants and businesses survive? Will the buildings? Here's more from Steve Kraske and Claudia Brancart:
---
Twitter:
Meanwhile in the Downtown battle for eternal souls….
(Note from the editor: Although I was just at The Brick, Jim's Alley Bar, and Brewery Emperial recently, I haven't confirmed this with my own eyes, so if you're near 18th and Grand, check it out and let me know.)
---
Bringing you some of the most interesting properties for sale or lease in and around Downtown Kansas City….
High in the sky, in the middle of it all
2510 Grand Boulevard, Unit 3001, Kansas City, MO 64108
Property presented by: Robb Murry
Brokered by: Chartwell Realty LLC
Price: $489,000
See the property online here
Homes and buildings featured in The Loop are not necessarily recommendations or endorsements, but rather illustrations of interesting properties for sale in the vicinity of Downtown
---
To support the KC Downtown Loop, please consider becoming a free or paid subscriber.
---
c. 1911
---
---
---
Who are all these people?
Answering the question "Who are all these people and where are they going?", The Loop brings you a list of some of the biggest events happening Downtown each week. Please give a friendly Downtown-Kansas City welcome to audiences and attendees of….
APRIL
TODAY
MAY
1st - 7th
8th - 14th
15th - 21st
22nd - 28th
29th - June 4
Big Slick Children's Mercy Fundraiser, June 3 at T-Mobile Center
For a more exhaustive list of everything happening Downtown, go to the VisitKC events page and use the "regions" function to search for Downtown, Westside/Southwest Blvd, West Bottoms, River Market, Power & Light, Crown Center, Crossroads, 18th & Vine — or anywhere you want to go in the KC Metro
For live Kansas City Jazz performances, visit LiveJazzKC.com
---
Q. May 6 is a big day for black history in Kansas City. On that date in 1919, the Kansas City Call, focusing on KC's African-American community, published its first-ever edition.
So… what black-history moment occurred 26 years later, on the same date, only a few blocks away from the Call's offices at 1715 E. 18th Street?
A. Jackie Robinson made his debut with the Kansas City Monarchs before a crowd of 13,314 fans on opening day, May 6, 1945. Robinson went 1 for 4, had a run-scoring double, scored a run, and stole a base in the Monarchs' 6-2 victory over the Chicago American Giants at Ruppert Stadium (later to become Municipal Stadium).
---
Did you see this week's question, quiz, or poll? If not, your chance to chime in is here.
---
Write to: tips@kcdowntownloop.com or contact The Loop via social media
Kevin Worley, Co-Publisher/Editorial




Joe Nichols, Co-Publisher/Business
---
---
Terence and Marsha Arredondo

Karin (Erickson) Bradford

Henna and Steve Fuller

Chris Gahagan

Bob and Susan Hiatt

The Kiwinda-Tinsley Family

Todd and Donna Martin

Jane Reed and Mark Patterson

Anonymous

Anonymous
---
---