Discover more from The KC Downtown Loop
Your connection to Downtown Kansas City: Essays and images for KC's Downtown dwellers, 9-to-5'ers, and urban explorers
In The Loop: April 2023
Your connection to Downtown Kansas City
Well, it's been a banner month since I last conversed with you, friends. I was knocked down by what may have been the worst flu of my life, then got Covid and — just to top it all off — got Covid again.
And, amazingly, despite spending at least 14 days of the last five weeks either in bed sick or in quarantine, I was able to carve out some good times in some diverse, trans-Missouri downtown settings.
In early March (after the flu but before Covid), my wife Karen and I traveled to St. Louis to see Sierra Ferrell in concert at The Sheldon Concert Hall. We enjoyed dinner at the Schlafly Tap Room beforehand, and I was envious of the shiny, new CityPark soccer stadium, home of St. Louis's new MLS team, just a few yards away from the Downtown brew pub and virtually across the street from the city's Union Station.
The next day, we drove to Columbia for the True/False Film Festival, our 14th time attending the all-documentary event. Similar to our time in St. Louis, a lot of what I loved about the trip was that I was, again, hanging out in a cool downtown district. We rented a house with our friends Julie and Todd just a few blocks from Downtown Columbia and walked to the festival each day, rarely ever needing a car for the entire three days we were there.
Now, I'm back in KC, finally out of quarantine just one day before this will be published, and looking forward to getting out and enjoying our own beautiful, vibrant Downtown again.
---
And now, on to the
The Loop
….
---
Test your Downtown knowledge….



Q. In the 1930s, at KMBC radio headquarters atop the Pickwick Hotel at 9th and McGee, a young singer named Paul Henning hoped to make his name performing over the airwaves. However, he learned he could make more money by also serving as a writer, actor, disc jockey, and news person for the station. What, ultimately, would be this Independence native's claim to fame after leaving Missouri?
A. See the answer near the bottom of this issue.
---
April 6-7, 1956
Chart-topping Chuck Berry makes his KC debut
With his song "Maybellene" reaching the No. 1 spot on Billboard's R&B chart and No. 5 on the Hot 100, Chuck Berry made his first appearance in Kansas City as a nationwide star when he appeared at the Orchid Room for two nights in April 1956. The well-known Orchid Room, near 12th and Paseo, was among the many establishments and businesses in the now defunct 12th Street and Vine district made famous in the song, "Kansas City."
🎶 I'm gonna be standing on the corner, of Twelfth Street and Vine… 🎵
---
April 7, 1878
Union Depot opens in the West Bottoms
Not unlike the recent opening of our single-terminal Kansas City International Airport, the debut of Kansas City's Union Depot was a huge source of pride for the city in 1878.
"OUR NEW DEPOT: Completion of the Finest Structure of the Kind West of New York," the Daily Journal of Commerce proclaimed in its front-page headline.
The boilers used for the depot's steam heat system came from Chicago, the cut-stone trimmings arrived from Cottonwood Falls, Kan., and the furniture for the waiting rooms and dining room were from New York — with many local and regional companies and individuals also contributing to the structure.
The dining room boasted space for 100 — but no alcohol was served on the premises. Thankfully for anyone seeking to imbibe, the West Bottoms was notorious for its number of saloons (and other illicit activity) in the late 19th and early 20th centuries.
Oh, and perhaps another comparison between our glorious, recently reconfigured airport and the opening of the Union Depot way back when?
The Kansas City Times reported about that first day 1878: "Union Avenue in front of the new depot is almost impassable."
---
April 8, 1934
Carrie Whitney, "mother of the KC library system," dies
It was 89 years ago this month that librarian and library director Carrie Westlake Whitney passed away in Kansas City. She was either 79 or 80 years old, her age unknown because we only know that she was born some time in 1854 in Fayette County, Virginia. She became the Kansas City Public Library's first director in 1881 and, over the course of several years moved the institution from a subscription model to one open to all citizens. She also served as the first president of the Missouri Library Association beginning in 1901.
Whitney also published a three-volume history entitled Kansas City, Missouri: Its History and its People in 1908 — just two years before she was demoted to assistant librarian, possibly because the city's oldest newspaper at the time, the Kansas City Journal, suggested the director position should be held by a man, or possibly because she may have gotten sideways with members of the board of education.
In any case, while Whitney served as either director or assistant director, the library's holdings grew from fewer than 1,000 books in 1881 to nearly 100,000 by 1911. She also advocated for more children's library services, and for the new library building (still standing) that was built in 1897 at 9th and Locust.
---
---
KC Parks:
"Bring Out the Blue" to celebrate Royals home stands
The City of Fountains Foundations is celebrating 50 years in 2023, and is partnering with the Royals "Bring Out The Blue" initiative to celebrate. Beginning on Fountain Day, April 14, one fountain will be dyed blue each month at the start of Royals home games through September. Downtown, in the Paseo district, the Women's Leadership Fountain will turn blue beginning May 2. Here's more:   
---
Soccer Stadium Digest:
KC Current reveals private club info
"The Pitch Club at KC Current Stadium reimagines exclusivity and proximity in sports entertainment," the KC Current website proclaims. Read the story below and view more renderings here:
---
The Cordish Companies:
Three Light celebrates with topping out ceremony
As it nears completion, Three Light Luxury Apartments in the Power & Light District celebrated the pouring of the building's last column with a ceremonial topping out event held near the project site in the heart of downtown Kansas City. The residential high-rise is expected to open in September.
---
PortKC:
Art Garden KC moving to Berkley Riverfront
Art Garden KC Festival Sundays, in collaboration with Troost Market Collective, is moving to Berkley Riverfront Park for the 2023 season thanks to a new partnership with Port KC. The festival is a free family and pet-friendly event that promotes and supports local artists of all media. Music, yoga, food trucks, and children's activities are woven into and around the roughly 70 vendors offering handcrafted clothes, jewelry, sculptures, art and more.
---
New York Times:
2026 World Cup will be largest and longest championship ever
Kansas City will be among the host cities for the next FIFA World Cup, and it was recently announced that the tournament will be expanded.
---
Bringing you some of the most interesting properties for sale or lease in and around Downtown Kansas City….
LEED Certified on the Westside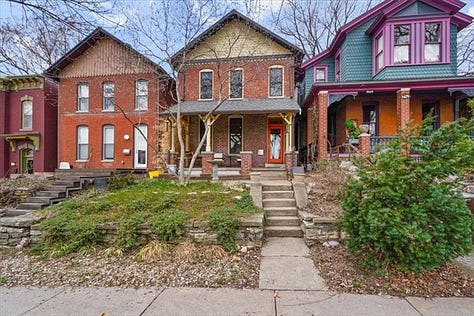 Property presented by: Sarah Page
Brokered by: Keller Williams Key Partners
Price: $595,000
See the property online here
Homes and buildings featured in The Loop are not necessarily recommendations or endorsements, but rather illustrations of interesting properties for sale in the vicinity of Downtown
---
To support the KC Downtown Loop, please consider becoming a free or paid subscriber.
---
1886
---
---
---
Who are all these people?
Answering the question "Who are all these people and where are they going?", The Loop brings you a list of some of the biggest events happening Downtown each week. Please give a friendly Downtown-Kansas City welcome to audiences and attendees of….
MARCH
TODAY
FRIDAY the 31st
APRIL
1st - 2nd
3rd - 9th
10th - 16th
17th - 23rd
24th - 30th
For a more exhaustive list of everything happening Downtown, go to the VisitKC events page and use the "regions" function to search for Downtown, Westside/Southwest Blvd, West Bottoms, River Market, Power & Light, Crown Center, Crossroads, 18th & Vine — or anywhere you want to go in the KC Metro
For live Kansas City Jazz performances, visit LiveJazzKC.com
---
Q. In the 1930s, at KMBC radio headquarters atop the Pickwick Hotel at 9th and McGee, a young singer named Paul Henning hoped to make his name performing over the airwaves. However, he made more money by also serving as a writer, actor, disc jockey, and news person for the station. What, ultimately, would be this Independence native's claim to fame after leaving Missouri?
A. Paul Henning — with the help of his wife, Ruth Barth Henning, whom he met at KMBC — would go on to become the creator of The Beverly Hillbillies and Petticoat Junction television shows. He also wrote The Beverly Hillbillies theme song, "The Ballad of Jed Clampett." The Hennings are buried in Tuscumbia, Mo., not far from the town of Eldon, where Ruth's grandparents owned the railside hotel that served as the inspiration for Petticoat Junction.
---
Write to: tips@kcdowntownloop.com or contact The Loop via social media
Kevin Worley, Co-Publisher/Editorial




Joe Nichols, Co-Publisher/Business
---
---
In addition to having access to all content, and receiving invitations to The Loop's Downtown events, Founders Level subscribers ($200 annually, or any amount above) receive a Downtown Loop sticker, a T-shirt in their choice of fit, size, and color, and recognition on the website.
Terence and Marsha Arredondo

Karin (Erickson) Bradford

Henna and Steve Fuller

Chris Gahagan

Bob and Susan Hiatt

The Kiwinda-Tinsley Family

Todd and Donna Martin

Jane Reed and Mark Patterson

Anonymous

Anonymous
---
---