Discover more from The KC Downtown Loop
Your connection to Downtown Kansas City: Essays and images for KC's Downtown dwellers, 9-to-5'ers, and urban explorers
On most Friday mornings, a diverse group of Kansas Citians rise early to pack their gym bags, lace up their basketball shoes, and make their way to Downtown's HyVee Arena for a game seemingly as old as time itself…
Networking.
The 6:30 a.m. basketball-and-networking event, called Pickup KC, was founded by entrepreneur and networker extraordinaire Mitch Case, who currently runs More Than A Meal, a meal-kit delivery program that helps reward, thank, or build relationships with employees, associates, and clients.
About seven years ago, Case was selling commercial HVAC equipment, and was looking for an alternative to expensive, disingenuous schmoozing over formal dinners or time-sucking happy hours with the goal of getting to know prospects and land more business.
So, he asked some of his clients: "What else would you do to get outside of a restaurant or happy hour and hang out?"
And a couple responded, "What about some pickup basketball?"
Case laughed because he hadn't picked up a basketball in 10-plus years at that point.
"But I called around to a couple places and Matt Ross (Community Center in Overland Park) was $25 for a half a court for an hour, and I thought, 'Well that's better than two or three hundred dollars [for dinner or happy hour].'"
And with that, what was then called "Friday Morning Hoops" was born, open to anyone in the construction and real estate industries — Case's current and potential clients at the time.
"So, literally four of us showed up on day one," Case remembers. "We played two-on-two half court. It was brutal. But the conversations changed from, 'Hey, what are you working on?' to 'Hey, how was your kid's swim meet?' and it just naturally gravitated toward a real relationship — we just [also] happened to be able to do business with each other."
After more and more people in the industry started showing up over the next couple of years, Friday Morning Hoops had outgrown the Matt Ross Community Center. The program moved to 68's Inside Sports in Overland Park — and then Covid hit. Case decided to make a career change — starting his own business — but he wanted to continue the hoops networking program even after he left the HVAC industry.
So, he re-branded Friday Morning Hoops as "Pickup KC," moved the program to HyVee Arena in the West Bottoms, and collaborated with KC Crew, an organization that runs sports leagues and social events in the metro area.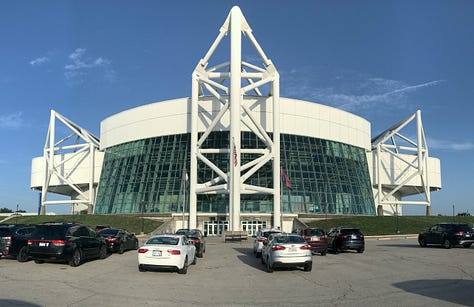 Although the hoops program lost some participants after its move from Johnson County, opening Pickup KC to all Kansas Citians in all industries — along with word-of-mouth — brought even more growth. Case says he now probably welcomes an average of 30 to 40 basketball players each Friday on three or more full courts at HyVee Arena.
"It's a networking and social event first," Case says, "But we're gonna run, we're gonna compete — but we're gonna be respectful, and we're gonna get out of here on time so you can get back to your place of work or wherever you need to go next.
He estimates there are at least two or three women playing each week — and he makes it clear that they have skills.
"It does tend to be the same five to seven women that do come out and play," Case says, "But I think the guys would be surprised: When the women show up, they bring some game."
With a more central location at HyVee Arena, Pickup KC boasts participants from all over the metro area, including the Northland, Overland Park, Lee's Summit and, of course, Downtown.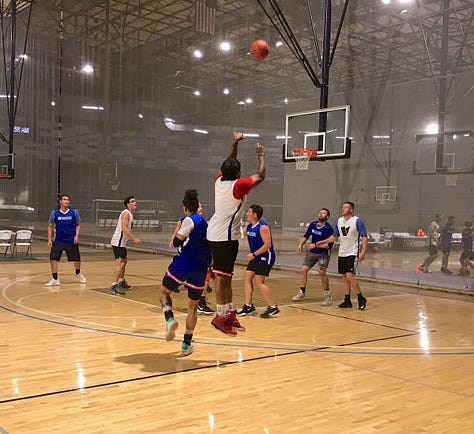 River Market resident Cody Isabel, founder and CEO of Mind, Brain, Body Lab has been playing with Pickup KC since before the group moved Downtown. As a former college player who is 6'-6" tall, he said he didn't quite understand the intent of the program at first.
"I didn't realize it was more of a chill environment, and went way too hard, ruffling some feathers," Isabel laughs. "So, Mitch had to remind me that dunking on people who are there to network isn't cool. But they still welcomed me back."
Five years later, Isabel still appreciates the combination of hoops and networking.
"I've met so many of my current friends playing Friday mornings," he explains. "I play in KC Crew Leagues a lot too, and my teams have always been made from guys from Friday morning."
He also recognizes the differing levels of competitiveness and skill.
"There are former college players, some pro guys, all the way down to people who just started playing this year, and everyone settles into a relaxed groove as we play. We're not there to get into the paper."
Participant Spencer Schubert of Midtown, who owns and creates bronze artworks and more at his E.S. Schubert Sculpture Studios in Kansas City, Kan., enjoys playing at HyVee Arena, formerly known as Kemper Arena.
"I used to watch the Comets and the Kansas City Kings play in Kemper Arena when I was young," he says. "Until Pickup KC, I hadn't followed its revitalization. It's such an iconic building, and such a huge part of the KC culture of my childhood. I am really glad that it still exists."
Josh Krause of Shawnee, the chief operating officer of OTR Leasing, says Pickup KC offers good basketball — and good people.
"It takes a certain fortitude to get up and play ball at 6:30 in the morning," he says. "The regulars bring quite a bit of joy, also."
Krause adds that the games provide a great platform to initiate relationships that can lead to business or career development.
"There are professional connections I've made with people in industries that I wouldn't normally come across. It's a superior choice for me for networking, versus drinks in a bar after work," Krause says. "It allows me to compete with other people and learn their true character — I'm a firm believer that competition brings out true character."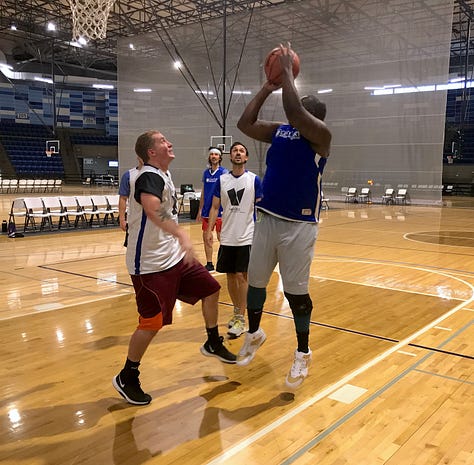 Regardless of whether a person is more interested in basketball or more interested in networking, all the players agree that anyone interested should give it a try.
"I've loved going for years. I look forward to it each week, and if I miss too many, I have guys texting me to see where I'm at," says Isabel, who urges newcomers to "Show up, we'll take care of the rest. I promise you'll feel like family by the end."
"It checks the exercise box … and is a lot of fun. It's very mentally stimulating. It is one of my favorite things each week," adds Schubert. "But bring your "A" game. How else can you shoot hoops with KC celebrity Kevin Holmes [of KSHB-TV]?"
"If you can play ball, you should be playing on Friday mornings with us," Krause says. "The competition is great. It's not personal; it's consistent. I'm not overly competitive, but Pickup KC games typically give me an opportunity to compete."
Pickup KC founder Case, who Schubert claims "has an ice cold jump shot," emphasizes his vision for the games: "I always tell people the purpose of this is to truly get to meet new people — we just happen to play basketball."
🏀